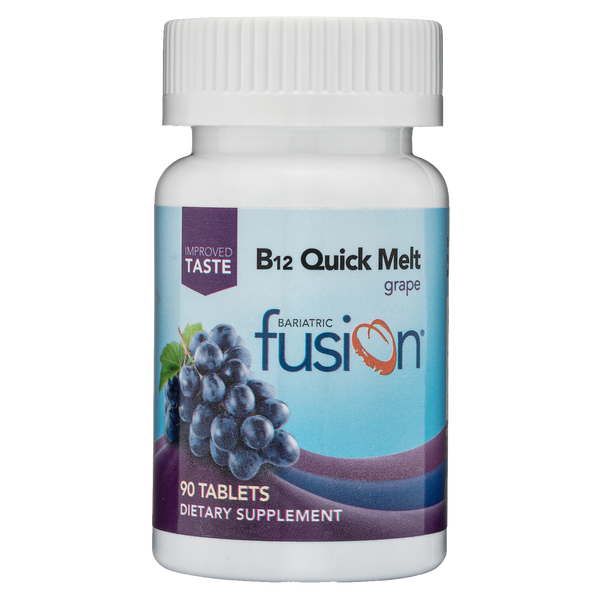 Great-Tasting

Grape Flavor

Affordable

Each bottle is a 3-month supply

Quick-Dissolving Tablet

Clean Ingredient Profile

Free from synthetic dyes, artificial flavors, and major allergens

Bariatric Formula

1000 mcg vitamin B12 (41,667% of the Daily Value) and 200 mcg folic acid
Bariatric Fusion Vitamin B12 Quick Melt is an easy way to support vitamin B12 within normal limits. Our great-tasting cherry-berry and grape flavors provide a quick-dissolving option to deliver 1000 mcg of vitamin B12 and 200 mcg of folic acid in each tablet. Vitamin B12 and folic acid synergistically support neurological health, red blood cell product, and healthy homocysteine levels.*
Micronutrient deficiency is a common risk of metabolic and bariatric surgery (MBS). The vitamin B12 absorption process starts in your mouth but mainly occurs in your stomach and small intestine with the help of intrinsic factor, a protein that helps your body assimilate. Restrictive stomach size and intestinal alterations facilitate malabsorption and diminished secretion of intrinsic factor.
Our Vitamin B12 Quick Melt delivers a higher supplemental dose of vitamin B12 that may be needed to compensate for the loss of stomach acid and intrinsic factor following surgery.
Our bariatric supplements are designed by a team of bariatric practitioners to support absorption and optimal nutrition as you successfully recover from MBS.*
Our bariatric supplements are formulated for those who have undergone ASMBS-endorsed procedures, including sleeve gastrectomy, gastric bypass, lap band, and intra-gastric balloon.
Help Us Fight Childhood Obesity
We are excited to announce the launch of Bariatric Fusion Cares. A portion of every sale on our website will go toward helping fight and prevent childhood obesity. Almost all of our customers have dealt with Obesity during their lives, most as early as childhood. TOGETHER, we hope to make an impact on children who are going through the same struggle. Bariatric Fusion has already donated over $10,000 to this great program. 
Learn More
---