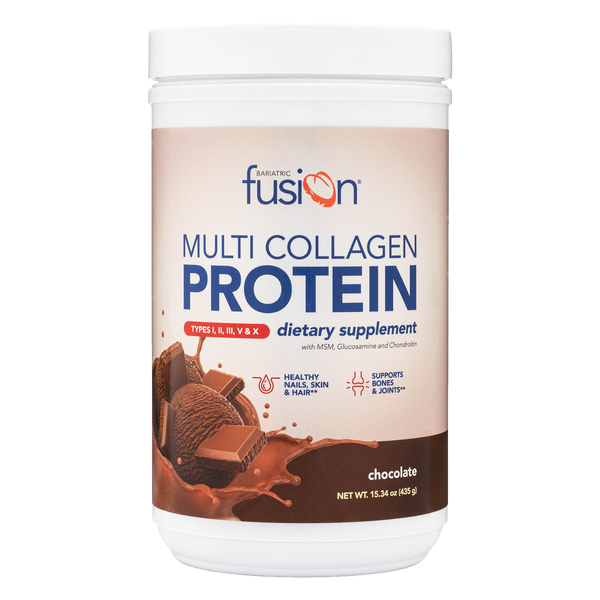 Multi Collagen Blend

May Help Promote Hair Growth, Joint Mobility, Skin Elasticity, and Nail Appearance

Additional Joint Support Complex

MSM, Glucosamine, and Chondroitin To Ease Inflammation and Support Your Joints

Great Flavor!

Ideal for Adding to your favorite Protein Shake, Juice, Smoothie, or Water

Affordable

Each Bottle Contains 30 Servings!

Bariatric Formulated

Our Premium Collagen Protein Powder Is Designed For Bariatric Patients
Finally a Multi Collagen For Bariatric Patients!
Bariatric Fusion Multi Collagen Protein Powder is the first bariatric specific Multi Collagen protein supplement designed utilizing the knowledge of a highly experienced team of bariatric practitioners. Our Chocolate Multi Collagen supplement contains over 10g of our Multi Collagen Blend, 10g of Protein, and our unique joint complex (MSM, Glucosamine, and Chondroitin) to further promote Joint Support of Bariatric Patients. Each Bottle contains 30 Servings, and is the easy way to get your daily Collagen. Collagen may help to minimize hair loss, joint and ligament pain, skin and nail conditions, which are all common issues a bariatric patient may face during their weight loss journey. Collagen may also help Bariatric Patients with Skin Elasticity after surgery. Each bottle of our Multi Collagen provides Types I, II, III, V, X, sourced from Bovine Collagen, Chicken Collagen, Eggshell Membrane Collagen, and Fish Collagen Peptides. 
Collagen May Help:
Minimize Joint Pain

Decrease Hair Loss

Improve Skin Conditions and the appearance of Loose Skin

Strengthen Brittle Nails
Collagen is the main structural component found in your body. Aging, sunlight, extreme weight loss, and environmental factors can cause damage to collagen fibers that are responsible for skin elasticity, tissue development, and joint support. This unique formula provides easily digestible collagen peptides in order to support natural collagen formation and may aid in bone and cardiovascular health, hair and nail growth, restoring skin elasticity and joint mobility. 
Our bariatric Collagen Proteins are formulated specifically for Bariatric Surgeries including Sleeve Gastrectomy, Gastric Bypass, Lap Band, and Intra-gastric Balloon patients. 
Bariatric surgery patients should not count the protein contained in this product toward daily protein intake since it is not considered a complete protein source due to the incomplete Amino Acid Profile.
Help Us Fight Childhood Obesity
We are excited to announce the launch of Bariatric Fusion Cares. A portion of every sale on our website will go toward helping fight and prevent childhood obesity. Almost all of our customers have dealt with Obesity during their lives, most as early as childhood. TOGETHER, we hope to make an impact on children who are going through the same struggle. Bariatric Fusion has already donated over $10,000 to this great program. 
Learn More
---