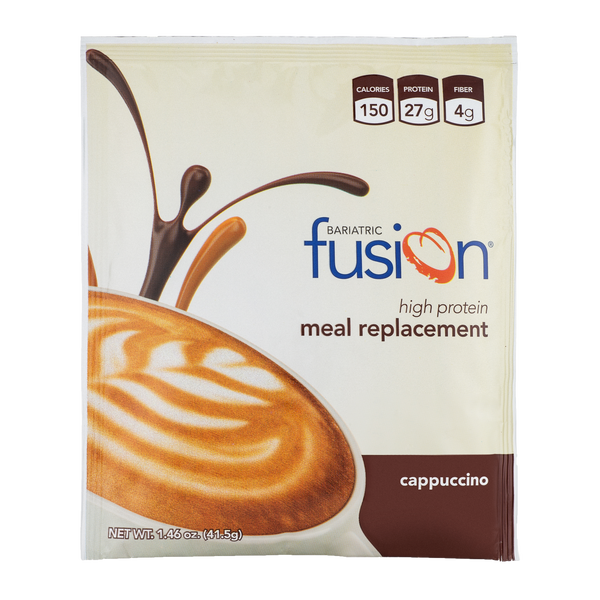 High Protein

27 grams of the highest quality medical grade whey protein isolate

Low Carbs, Low Calories

Only 8 Grams of Carbs and Only 150 Calories

Packed with Vitamins and Minerals

25 Vitamins and Minerals

High fiber, No Sugar

4 grams of fiber and no sugar added

Gluten and Lactose Free
Bariatric Fusion Cappuccino High Protein Meal Replacement provides essential daily protein for bariatric patients. Our delicious whey protein powder is low-calorie, high-protein, high-fiber, and low-carbohydrate. It blends quickly into a low-fat protein shake option for bariatric patients requiring a complete protein supplement before and after weight loss surgery. This lactose-free bariatric protein powder delivers all of your essential amino acids in 27 grams of protein per serving to support muscle mass, healing and recovery, healthy metabolism, satiety, and weight management.*
After weight loss surgery, patients often need to eat more protein than they did before surgery. This is because their bodies are healing and rebuilding muscle tissue. Whey protein isolate is a complete source of protein that is easy to digest and absorb. It can help patients meet their daily protein needs and support their recovery.*
Bariatric Fusion's High Protein Meal Replacements are a complete source of protein that is easy to digest and absorb. They are suitable for use during the full liquid diet stage after weight loss surgery when solids are not yet feasible. They can also be used by anyone looking for a high-quality protein powder. However, it is important to note that this protein supplement should not be used for weight loss unless under the guidance of a healthcare provider.*
Enjoy 10 best-seller meal replacement protein flavors. For a similar product in a 21-serving tub, try Bariatric Fusion High Protein Meal Replacement Tub.

Bariatric Fusion's bariatric protein powders are formulated by a team of bariatric practitioners to support protein intake for those who have undergone ASMBS-endorsed procedures, including duodenal switch, SIPS, SADI-S, sleeve gastrectomy, gastric bypass surgery, lap band, and intra-gastric balloon.

**Product packaging may vary

*These statements have not been evaluated by the FDA. This product is not intended to diagnose, treat, cure or prevent any disease.

Help Us Fight Childhood Obesity
We are excited to announce the launch of Bariatric Fusion Cares. A portion of every sale on our website will go toward helping fight and prevent childhood obesity. Almost all of our customers have dealt with Obesity during their lives, most as early as childhood. TOGETHER, we hope to make an impact on children who are going through the same struggle. Bariatric Fusion has already donated over $10,000 to this great program. 
Learn More
Customer Reviews
Write a Review
Ask a Question
08/10/2020
Robert H.

United States
Great Taste
Great substitute for morning coffee. Fulfills my protein needs and my coffee craving in one drink.
03/03/2020
Sabrina C.

United States
Cappuccino Protein
love the flavor! no aftertaste. great nutrition 5+++ stars
12/30/2019
Tracey C.

United States
Excellent
Excellent taste.mixes very well.i mix it with unsweetened soy milk
---