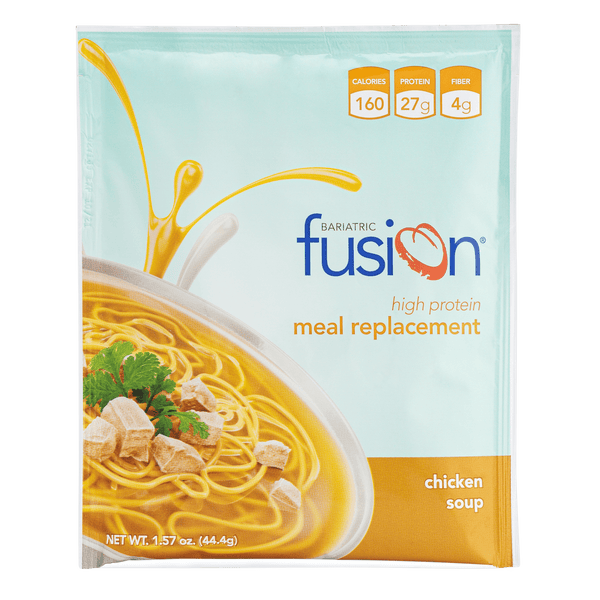 High Protein

27 grams of the highest quality medical grade whey protein isolate

Low Carbs, Low Calories

Only 10 Grams of Carbs and Only 160 Calories

Packed with Vitamins and Minerals

25 Bariatric Specific Vitamins and Minerals

High fiber, No Sugar

4 grams of fiber and no sugar added

Gluten and Lactose Free
Bariatric Fusion Chicken Soup High Protein Meal Replacement is the first bariatric specific protein supplement designed using the knowledge of a team of highly experienced bariatric practitioners and the feedback of over 5,000 bariatric patients. Our products have been thoroughly reviewed and tested by bariatric patients to perfect the taste, texture, and consistency.
Bariatric Fusion premium high protein low-carb protein products are a great way to increase muscle mass and lose weight faster, safely and affordably. Our medical grade protein is designed and formulated by a team of bariatric practitioners to provide weight-loss surgery patients with a quick and effective way to receive the required daily amount of proteins, fiber and essential vitamins and minerals following surgery.
Our bariatric proteins are formulated specifically for Bariatric Surgeries including Sleeve Gastrectomy, Gastric Bypass, Lap Band, and Intra-gastric Balloon patients. 
Help Us Fight Childhood Obesity
We are excited to announce the launch of Bariatric Fusion Cares. A portion of every sale on our website will go toward helping fight and prevent childhood obesity. Almost all of our customers have dealt with Obesity during their lives, most as early as childhood. TOGETHER, we hope to make an impact on children who are going through the same struggle. Bariatric Fusion has already donated over $10,000 to this great program. 
Learn More
---