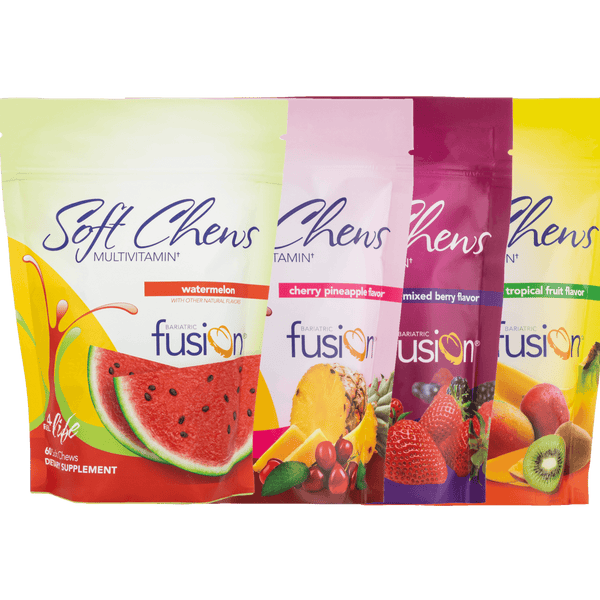 Bariatric Formulation

Packed with Specific Bariatric Vitamins and Minerals

Easy

Only 2 Chews Per Day!

Compliance

Meets All Major Nutritional Standards of ASMBS, The Obesity Society, and the Endocrine Society

Convenient

60 Individually Wrapped Soft Chews in Each Bag

Gluten and Sugar Free

Made In The USA
The Perfect Treat During The Day
Bariatric Fusion great-tasting, individually wrapped Soft Chews Bariatric Multivitamin are uniquely formulated to provide the essential bariatric vitamins and minerals your body needs after bariatric surgery with only 2 soft chews per day!
Variety Pack Includes 4 great flavors; Watermelon, Mixed Berry, Cherry Pineapple, and Tropical Fruit.
Our soft chews are formulated to provide a better tasting, smoother consistency, and improved texture. Using the highest quality process and ingredients, we have created the perfect supplement to increase bioavailability in order to maximize both absorption and effectiveness.
Micronutrient deficiency is a common side effect of weight loss surgery. Our bariatric vitamins were designed and formulated by a team of bariatric practitioners to maximize absorption so you get proper nutrition for your body as you successfully recover from weight loss surgery.
Our bariatric multivitamins are formulated specifically for Bariatric Surgeries including Sleeve Gastrectomy, Gastric Bypass, Lap Band, and Intra-gastric Balloon patients. 
Help Us Fight Childhood Obesity
We are excited to announce the launch of Bariatric Fusion Cares. A portion of every sale on our website will go toward helping fight and prevent childhood obesity. Almost all of our customers have dealt with Obesity during their lives, most as early as childhood. TOGETHER, we hope to make an impact on children who are going through the same struggle. Bariatric Fusion has already donated over $10,000 to this great program. 
Learn More
Customer Reviews
Write a Review
Ask a Question
---