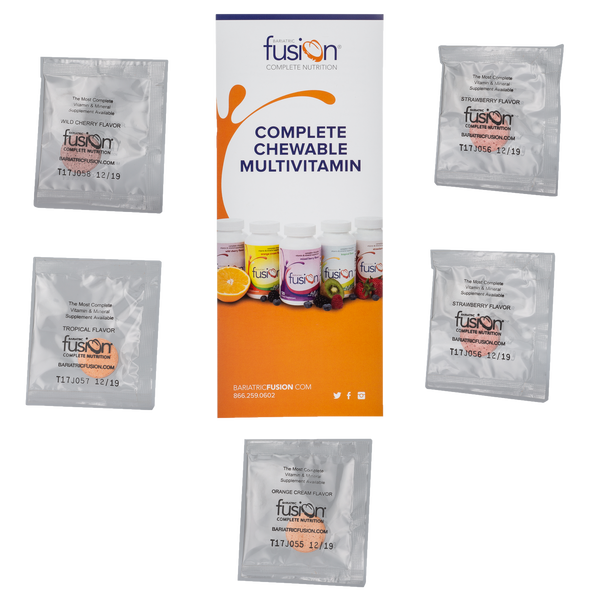 Sample All 5 Complete Chewable Flavors

Free Shipping

$5 Off Coupon Included
Complete Nutrition Sample
Try our all-inclusive Complete Chewable Sample and receive a coupon for $5.00 off your first order! Also, receive FREE SHIPPING on all sample pack orders! Our great-tasting Vitamin and Mineral Supplement contains all of the vitamins and minerals that you need after weight loss surgery!
Each sample pack contains 5 samples of our Complete Chewable Vitamin and Mineral Supplement. You will have the chance to sample Mixed Berry, Orange Cream, Strawberry, Tropical, and Wild Cherry. Our Complete Chewable Vitamin and Mineral Supplement is essential to support your needs after bariatric surgery.
Limit – 1 sample pack per order
Special Offers and Coupons not valid on Samples unless specified.
Help Us Fight Childhood Obesity
We are excited to announce the launch of Bariatric Fusion Cares. A portion of every sale on our website will go toward helping fight and prevent childhood obesity. Almost all of our customers have dealt with Obesity during their lives, most as early as childhood. TOGETHER, we hope to make an impact on children who are going through the same struggle. Bariatric Fusion has already donated over $10,000 to this great program. 
Learn More