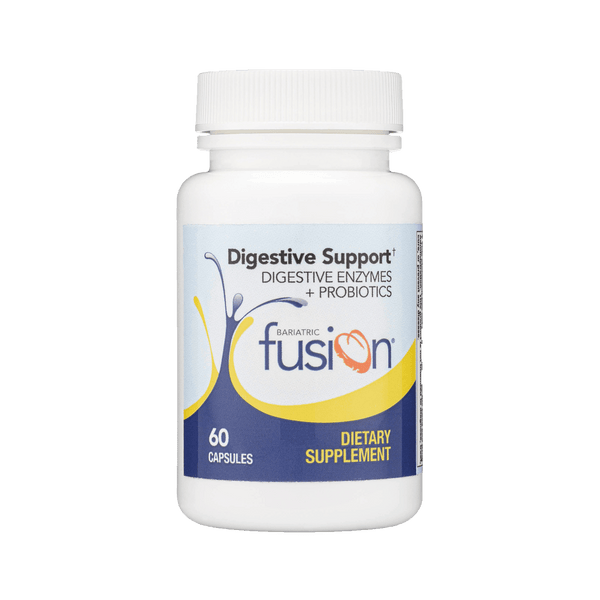 Easy

One easy-to-swallow capsule per meal

Affordable

Each bottle provides 60 servings

Bariatric Formulation

The first complete bariatric digestion solution*

11 Digestive Enzymes

Optimize digestion & absorption*

Clinically Studied

Bacillus subtilis is backed by over 30 scientific articles
Digestive Support by Bariatric Fusion is the first and only digestion solution formulated specifically for people who have undergone Metabolic and Bariatric Surgery (MBS). Digestive issues following MBS are common: bloating, gas, diarrhea, or constipation can all be signs of incomplete digestion. Digestive Support contains digestive enzymes and probiotics that synergistically support the complete digestion of food. In turn, this promotes optimal nutrient absorption, bowel regularity, and digestive comfort.* This Vegan friendly formula is free from gluten, dairy, soy, egg, fish, shellfish, peanut, and tree nut. It also contains no artificial colors, flavors, dyes or colors.
Digestive Support features a blend of 11 digestive enzymes that collectively break down proteins, fats, and carbohydrates, including difficult-to-digest starches. The unique enzyme blend works over a broad pH range to provide natural digestion support starting in the stomach, all the way into the small intestine. This formula includes the well-studied probiotic species Bacillus subtilis DE111 for additional microbiome and bowel regularity support.*
Digestive Support optimizes nutrient absorption by supporting complete food breakdown. You can take this unique digestive aid following weight-loss surgery and for long-term maintenance support.  Our formula also supports healthy cholesterol levels, immune responses, and bowel regularity by promoting thorough digestion. Enjoy eating again with Digestive Support by Bariatric Fusion!*
Help Us Fight Childhood Obesity
We are excited to announce the launch of Bariatric Fusion Cares. A portion of every sale on our website will go toward helping fight and prevent childhood obesity. Almost all of our customers have dealt with Obesity during their lives, most as early as childhood. TOGETHER, we hope to make an impact on children who are going through the same struggle. Bariatric Fusion has already donated over $10,000 to this great program. 
Learn More