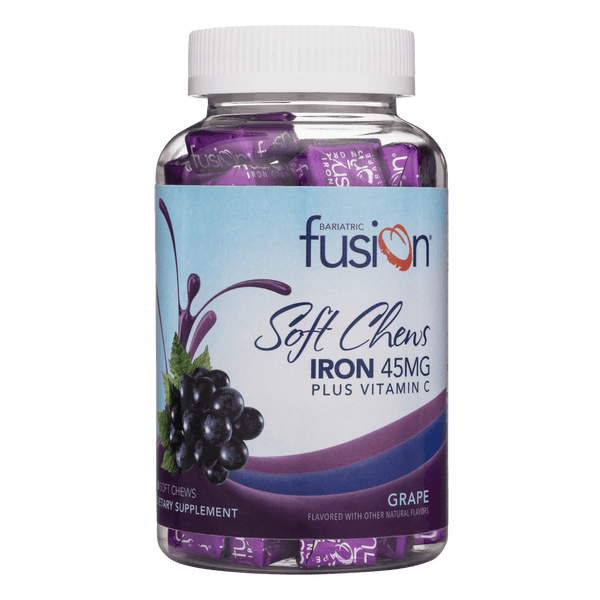 Great Tasting

Our Grape flavored soft chew is the best tasting Iron on the market

Convenient

Each chew is individually wrapped

Well Tolerated

No GI side effects and easy on your stomach

Boost Iron Absorption

45 mg of Iron in each chew plus 60 mg of Vitamins C to boost Iron absorption

Gluten Free

Made In The USA
Best Tasting Bariatric Iron Supplement on the Market
Bariatric Fusion Grape Bariatric Iron Soft Chews are formulated specifically to fight iron deficiency and anemia after Bariatric surgery.  The amazing Grape flavor will leave you wanting more and having a soft chew Iron supplement will maximize your body's absorbing potential. Best of all, our GRAPE flavored Iron soft chews taste GREAT, have NO GI side effects and contain only 20 calories!
Iron is an essential mineral for our body and an important component of hemoglobin in the red blood cells. It transports oxygen from the lungs to other organs and tissues throughout the body and helps maintain healthy cells, skin, hair and nails. If your body doesn't have enough iron, and can't produce enough healthy red blood cells, it won't get enough oxygen. Iron deficiency anemia can then occur, resulting in fatigue, lack of ability to fight off infections and more.
Micronutrient deficiency is a common side effect of weight loss surgery. Our bariatric supplements were designed and formulated by a team of bariatric practitioners to maximize absorption so you get proper nutrition for your body as you successfully recover from weight loss surgery.
Our bariatric supplements are formulated specifically for Bariatric Surgeries including Sleeve Gastrectomy, Gastric Bypass, Lap Band, and Intra-gastric Balloon patients.
Our Iron Soft Chews may be used for those who are iron deficient or may have anemia under the supervision of their health care provider. 
Help Us Fight Childhood Obesity
We are excited to announce the launch of Bariatric Fusion Cares. A portion of every sale on our website will go toward helping fight and prevent childhood obesity. Almost all of our customers have dealt with Obesity during their lives, most as early as childhood. TOGETHER, we hope to make an impact on children who are going through the same struggle. Bariatric Fusion has already donated over $10,000 to this great program. 
Learn More