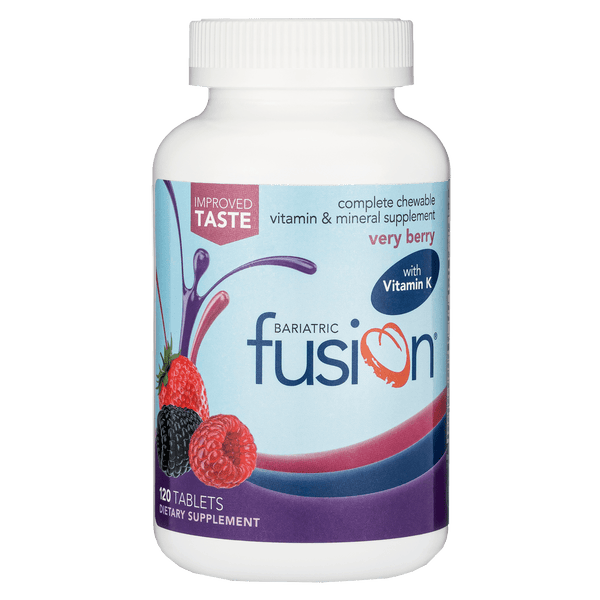 Cost Effective

All-in-one comprehensive formula

Easy To Take

Only 4 chewable tablets daily

Clean Bariatric Formula

No artificial flavors, colors, sweeteners, or sugar alcohols and non-GMO.

Compliance

Meets all ASMBS guidelines for targeted micronutrients, including vitamin K

Absorption

Chewable tablets with bioavailable nutrients to support utilization*
Bariatric Fusion Very Berry Complete Chewable Multivitamin with Vitamin K provides biologically available vitamins and minerals to support nutrient absorption and utilization. This complete chewable multivitamin offers an all-inclusive solution for a convenient, affordable, and great-tasting daily regimen that may be required for life following weight loss surgery. Our chewable multivitamin with vitamin K is available in a delicious, very berry flavor and meets all ASMBS guidelines for targeted micronutrients, including vitamin K.*

After weight loss surgery, patients are at a higher risk of micronutrient deficiencies due to nutrient malabsorption and lower nutrient intake with smaller meals. Undergoing weight loss surgery requires a lifelong dedication to a healthy lifestyle that includes daily bariatric vitamin and mineral dietary supplements to support ongoing health and nutrition.*

Please note, however, that Vitamin K is a fat-soluble vitamin that must be taken carefully, particularly for individuals on anticoagulant therapy. Please speak with your healthcare provider before adding supplemental vitamin K to your regimen.
Our great-tasting bariatric supplements are formulated by a team of bariatric practitioners to support nutrient absorption and address the unique needs of bariatric patients following weight loss surgery.*
Our bariatric multivitamins and supportive supplements are designed for those who have undergone ASMBS-endorsed procedures, including sleeve gastrectomy, gastric bypass, lap band, and intra-gastric balloon. 
Help Us Fight Childhood Obesity
We are excited to announce the launch of Bariatric Fusion Cares. A portion of every sale on our website will go toward helping fight and prevent childhood obesity. Almost all of our customers have dealt with Obesity during their lives, most as early as childhood. TOGETHER, we hope to make an impact on children who are going through the same struggle. Bariatric Fusion has already donated over $10,000 to this great program. 
Learn More